In order to achieve the above goal, it is the need of the hour that all professional Engineers including those in service to come under the platform for their rightful place in society. For this purpose, ISSE welcomes all working in the field of structural engineering to become its member.
Inauguration of Student Chapter -Maharaja Institute of Technology, Thandavapura (Karnataka ) on 04/07/2023
Inauguration of ISSE Students Chapter has been made in Maharaja Institute of Technology, Thandavapura on 04/07/2023 by Department of Civil Engineeering, MITT. Session was started with gods grandeur and lighting of lamp by Dr. Y T Krishnegowda, Principal, MITT, Dr. Chethan H K, Secretary, MITT, Dr. B C Nagendra Prasad, HOD. Master of ceremony welcomed the guest, dignitaries and all the other gatherings through welcome speech. Introductory speech was made by Er. Shanthilal Jain, President ISSE, Mumbai. Er. Madhav Chikodi, Advisory Trustee, ISSE, Mumbai briefed out students about ISSE.
Guest speaker Er. Hemanth Vadalkar made a presentation on "Sustainable Development in Civil Engineering". Speaker explained the concept of sustainability in civil engineering referred to the practice of designing, constructing, and managing infrastructure in a way that minimizes negative environmental impacts, conserves resources, and promotes long-term economic and social well-being. Concept of green buildings that are energy-efficient, use sustainable materials, and reduce waste was discussed. Speaker emphasized on sustainable civil engineering ideas that aims to optimize resource utilization, which involves minimizing the consumption of materials, water, and energy during construction and operation. Also discussed on sustainable practices that focused on reducing waste generation and promoting recycling and reuse. Also, discussed the implementation of strategies to manage construction waste responsibly, encourage the use of recycled materials, and design structures with flexibility for future modifications or repurposing. Er. Hemanth Vadalkar discussed that sustainable civil engineering requires collaboration and engagement with stakeholders, including clients, communities, and regulatory bodies. Educating stakeholders about the benefits of sustainable design, construction, and operation can lead to greater acceptance and implementation of sustainable practices. Speaker concluded the session by highlighting on how the civil engineers can contribute to the development of infrastructure that meets the needs of the present generation without compromising the ability of future generations to meet their own needs.
Certificates were issued to the enrolled students by Principal Dr. Y T Krishnegowda on behalf of Indian Society of Structural Engineers in their gracious presence online.
On behalf of the Department of Civil Engineering Dr. B C Nagendra Prasad presented Vote of Thanks by thanking all the ISSE dignitaries for joining hands in student chapter. Also, congratulated the students who enrolled the chapter. He whole heartily thanked Mr. Ranganath
Satam, Mr. Paresh Unnarkar for their gracious prescence and Also, thanked Er. Madhav Chikodi, Prof. Raghavendra A and all the others who are responsible for this fruitful session.
ISSE Student Chapter in Aditya Engineering College, Surapalem ( Andhra Pradesh)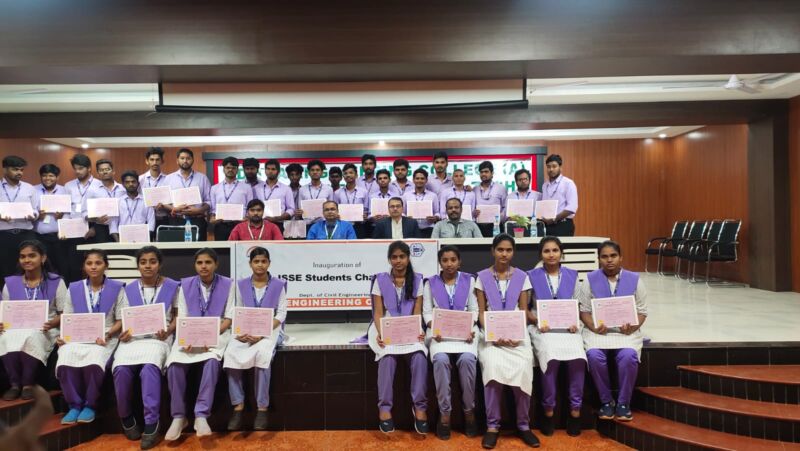 ISSE Student Chapter in MIT, WPU, PUNE on 15th Feb 2019
Indian Society of Structural Engineers, Pune center has started 1st"ISSE Student Chapter" in Pune on 15th February 2019 at MIT WPU, Kothrud Pune. The Eminent Professor of IIT Madras Prof. C.V.R. Murty was invited as a chief guest for this program. The Inaugural function commenced, with National Anthem. The Inaugural Function was compared by Miss. Samruddhi Mangrulkar, student of MIT WPU.
ISSE Pune center secretary Er. Kishor Jain addressed the audience and welcomed the delegates. ISSE Pune Chairman Er. Dhairyashil Khairepatil briefed about ISSE, its working, aims and future plans, and idea behind starting the students chapter in Pune. He also briefed how the professionals can help the students on this platform.
Dean of MIT WPU College Prof. L.K. Kshirsagar brief about his college. He gave thanks to ISSE Mumbai and ISSE Pune for starting 1st"ISSE Student Chapter" in his college. He also promised to give full support from his side for the effective implementation of this activity in the college. He expressed his views on the need of such an organization.
Prof. L.K. Kshirsagar felicitated Chief Guest Dr. C.V.R. Murty, ISSE Mumbai office bearers Prof. C.B. Chaudhari, Mr. Madhav Chikodi, Mr. Ashutosh Danki, and K.L.Savla. Also Prof. Dr. Mrudula Kulkarni, Head of school- Civil Engineering, MIT WPU felicitated ISSE Pune office bearers Er. Dhairyashil Khairepatil and Er. Kishor Jain.
The ISSE MIT WPU Chapter was declared Inaugurated by Prof. C.V.R. Murty. Prof. Dr. H.R. Magarpatil was then declared as the Co-ordinator of ISSE MIT WPU
Student Chapter.
In the presentation, Prof. C.V.R. Murty took the audience on the knowledge tour of how integrated structural engineering is with life and nature.
He also talks on topics such as
1. Importance of complying with nature
2. Material science and structural engineering.
3. Some splendid structures of the world- leaning towers of Pisa, Eiffel Tower etc.
4. Retrofitting- biggest challenge and business potential.
5. Importance of planning
6. Complexity and Keenness in structural engineering
7. Living and apartment system in space- the coming future advances
8. Summed up by how attitude is important to achieve anything in life.
ISSE Mumbai office bearers Prof C.B. Chaudhari addressed the audience and further threw light upon the activities of the ISSE. . He also gave information about the idea behind starting the "ISSE Student Chapter" and its benefits for engineering students. He also gave books for students who become a member of "ISSE Student Chapter".
Prof. Dr. Mrudula Kulkarni proposed the vote of thanks and initiated development ideas. She further invited collaborations of the university and the industry.
The inaugural function was a major success with great minds delivering and sharing knowledge along with Intrigued and gratified audience.
Chairman
Er. DhairyashilKhairepatil
ISSE Pune
ISSE Student Chapter in Chamelidevi Group of Institution Indore on 26th Feb 2019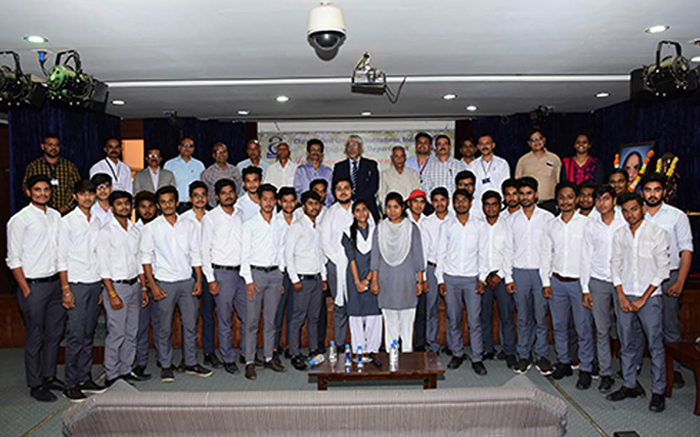 ISSE Student Chapter In Vivekanand Education Socity's Polytechnic, Chembur. on 16th March 2019